Apple and Macs are now a major part of business networks across Metro Atlanta. MacBooks, iMacs, iPhones and iPads are a regular sight in the hands of business professionals across North Georgia.
Magnicom is Atlanta's top Apple Mac Support Geniuses!
Executives, Business Owners and Sales Professionals are turning to iPads and iPhones to access corporate resources, emails and cloud applications.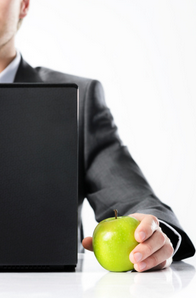 Magnicom is your highly-skilled Apple consulting firm in Atlanta. Our team of Apple & Mac Support specialists help your business with all aspects of your business network. Magnicom will ensure that your traditional Windows network and Apple systems play well together and your employees are working in an efficient manner.
You will have a professionally engineers business network set up and maintained by IT experts who understand how Microsoft systems work and how to setup your Apple devices to ensure that the stability and integrity of your network and data are not compromised.
Are you looking to share information between your Apple systems and Microsoft networks?
Need to access your email on your iPad and ensure that you receive it in your Microsoft Outlook?
Looking to print from your Mac to the same network printer as your colleagues using Windows computers?
Magnicom will ensure that everything works together. Our Apple consultants are trained professionals. We have invested in educating our staff on the latest Apple technologies. Put your trust in our team of Apple certified professionals. Consider us as your geniuses (without having to wait in line among all the teenagers in the Apple store).

Call Magnicom today to learn more about our Apple and Mac support offerings.